We are improving EASI'R by releasing new features, working on existing ones and and fixing bugs. Here are some examples of what we have accomplished in the past few weeks.
 ____________________________________________
Zusammenfassung 
Die aktuellste EASI'R-Version hilft Ihnen mit zusätzlichen Meilensteintypen, weniger ungenutzten Features und weiteren Verbesserungen.
What's new  
Additional Milestone types
When editing or creating a new milestones, Admins will see that there are new "Milestone types" available, that can help indicate the purpose of a specific milestone. "Test drive" was changed to "Test drive completed". Additionally, we added "Test drive planned", "Offer", and "Sale". When Admins assign those milestone types to milestones, they help the system to suggest the right milestones in the right context, and possibly even to auto-select them for them.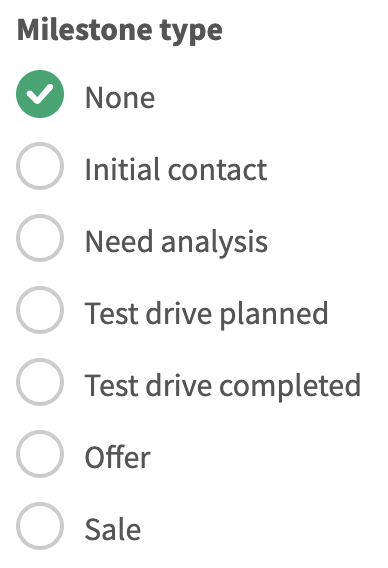 Improvements 
Removal of Gamification
We have decided to remove the gamification feature. Reason for this was that it was rarely used, and we do not want to burden our product with features that are not needed and that don't give real value to our users.
Bug fixes
Downloaded reports for Admins did not show all values correctly 

– fixed!

There were undesired interdependencies connected to the "Agency" right 

– fixed!

Multiple tasks were created for a single activity 

– fixed!
 ____________________________________________
We appreciate your feedback, so if you have ideas or suggestions for improvements, please email us at support@easir.com.
If you would like to receive our Release Notes via email, you can subscribe here.